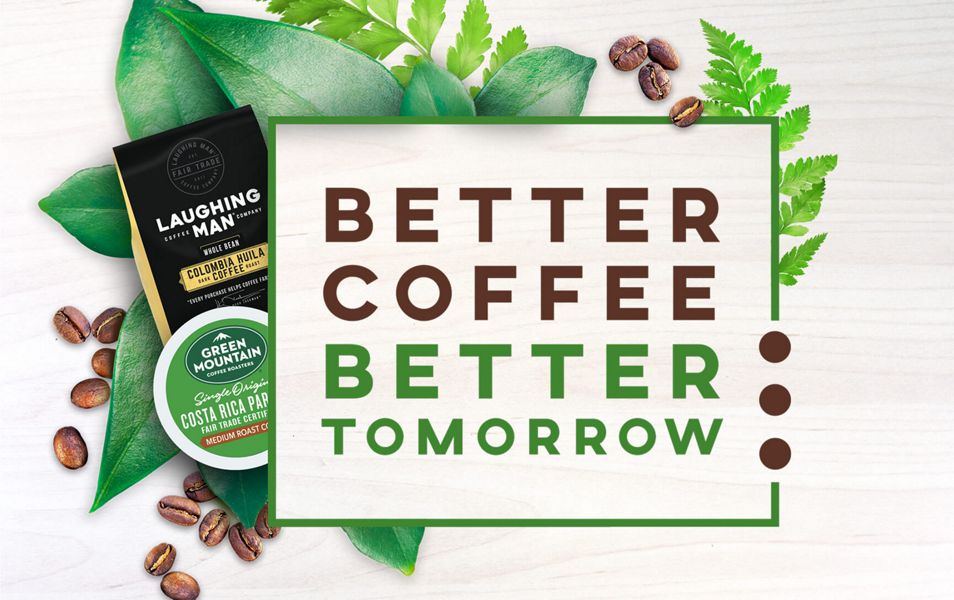 BETTER COFFEE, BETTER TOMORROW
Creating a Sustainable Future from the Grounds Up
We're setting sustainability goals as if our earth depends on us. Because it does.
Every cup of coffee you brew connects you to a far away farmer. When it's Keurig® coffee, that cup is doing more— because we're doing more. We're working closely with coffee communities to find solutions that improve their livelihoods, strengthen their farms, and ensure that coffee can thrive for generations to come.

Together, we can build a better tomorrow for people and the planet. We go beyond great coffee and innovation, working continuously to be environmentally and socially responsible every single day. From seed to cup, every step in our coffee's journey is an opportunity to create lasting change.

Brewing a Better World
Our sustainability journey has touched millions of lives around the globe, from farmers to suppliers to distributors to recyclers. As we reach our goals and establish new ones, that number will continue to grow. Today, our efforts are guided by past commitments as well as future targets in the areas of packaging, natural resource use, supply chain sustainability, and employee and community wellness.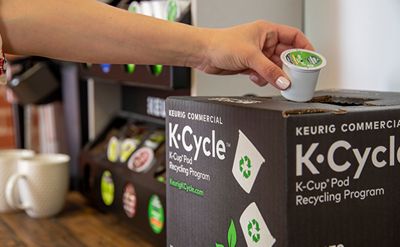 Recycling Solutions
Recyclable K-Cup® pods and workplace recycling & composting program*
Responsible Sourcing
Committed to responsibly sourced
coffee & brewers
Community Outreach
Strengthening bonds in the places we
work & live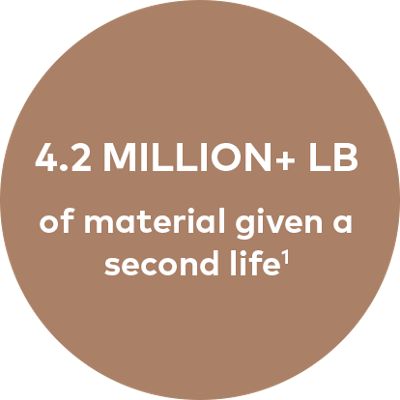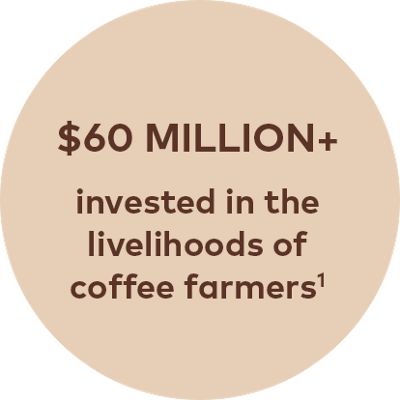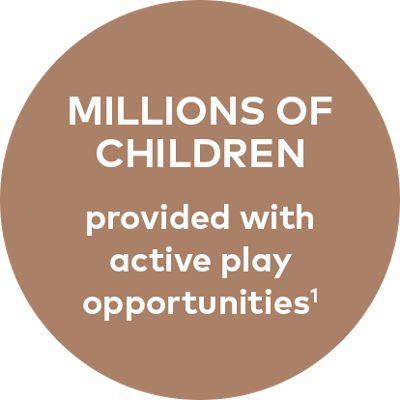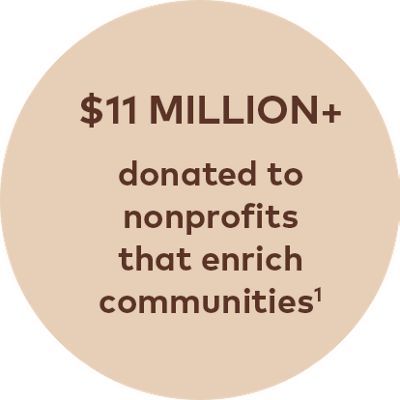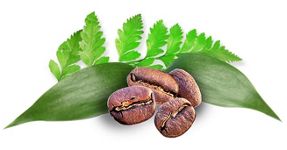 A Sustainable Future In Progress
Underway for 2025
100% of packaging will be recyclable or compostable1
All packaging will be 30% post-consumer recycled materials across our packaging portfolio1
Zero waste from our operations will be sent to landfills1
100% of electricity will come from renewable energy sources1
Learn more about Keurig Dr Pepper's sustainability efforts and corporate responsibilities.

Path to Recyclability
Our recyclable K-Cup® pod was developed to make recycling simple, recovery easy, and reuse possible. We worked with engineers, end-market reclaimers, manufacturers, and other industry experts to assess what material would be both recyclable and recycled. We also conducted over a dozen full-scale tests at recycling facilities around the country in order to ensure that every K-Cup® pod that's recycled is successfully recovered.*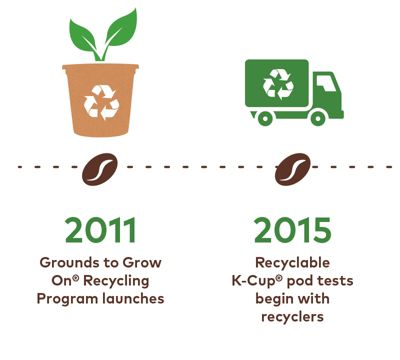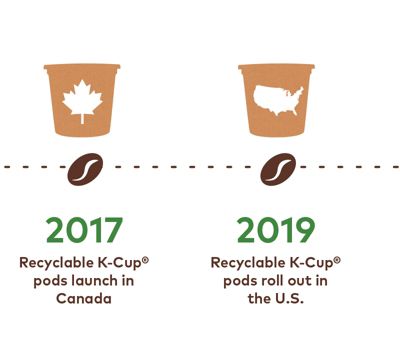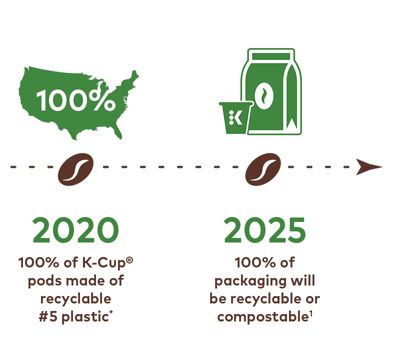 Closing the Loop with #5 Plastic
We chose polypropylene #5 plastic for our recyclable K-Cup® pods because it's a high-quality, highly reusable material that has a second life as auto parts, children's toys, storage bins, outdoor furniture, and more. This innovation, plus our workplace recycling program, will help us achieve our goal of sending zero waste to landfills by 2025.
2 Solutions for Recycling at Work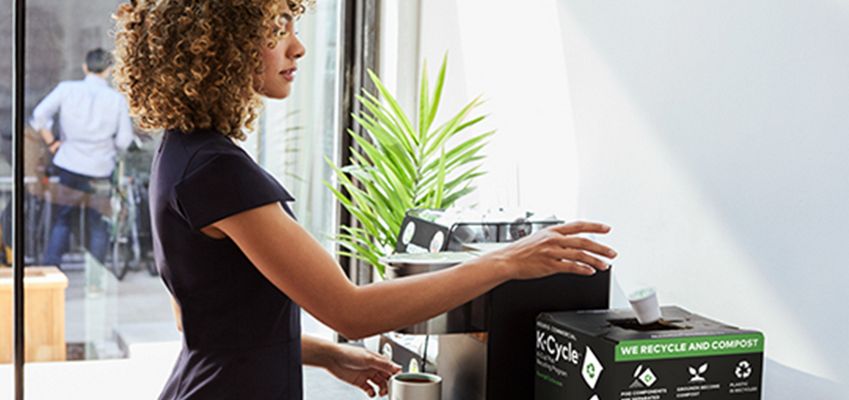 Recycling & Composting Program
Our K-Cycle™ program composts and recycles your office's K-Cup® pods for you. Seventy-five percent of a K-Cup® pod by weight is composted and the remaining 25 percent is recycled,2 ensuring zero waste enters landfills.*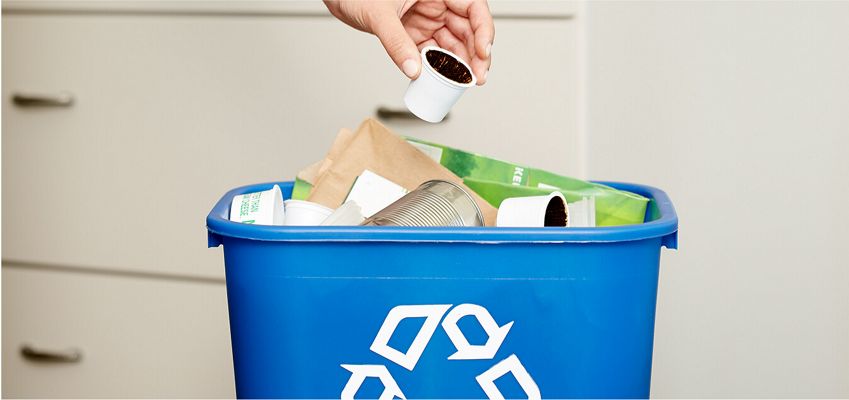 Peel. Empty. Recycle.
Recyclable K-Cup® pods don't compromise taste or sustainability and are accepted by the majority of curbside recycling programs.* They're made of polypropylene, a material known as #5 plastic that's valued for its reusability in other consumer goods.1*Not recyclable in all communities. Check locally.


Committed to 100% Responsibly Sourced Coffee
We are proud to say that all our delicious coffees are 100% responsibly sourced. Responsible sourcing means our coffee is grown and sold according to a credible sourcing program's standards and our own Supplier Code of Conduct. These guidelines ensure ethical and sustainable practices across our entire supply chain — a necessity, because our supply chain can positively impact millions of lives around the world.
We also partner with suppliers to ethically and responsibly source our brewers. By requiring our brewers and appliances to meet strict social, environmental, and ethical manufacturing standards, we're able to protect the rights and safety of laborers.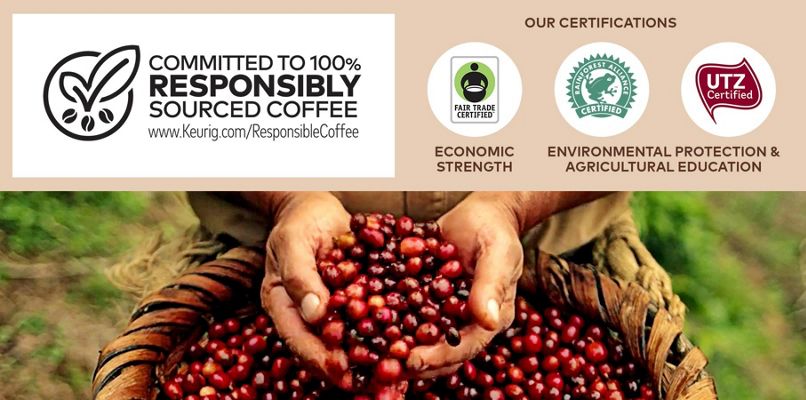 Great Coffee for the Greater Good
Since 2010, we've been the largest Fair Trade coffee purchaser in the world. Our efforts help to ensures every farmer receives above-market pay, is protected from labor abuse, and can build a stable farming business. As part of our 100% responsibly sourced commitment, we continue to source and buy coffee from farms with these certifications: UTZ, the Rainforest Alliance, and Fair Trade™ Certified.
We responsibly source 100% of our coffee because it promotes the greater good. Sourcing certified coffee is a key step on our journey toward sustainability. It strengthens the farming communities of today; supports long-term sustainability for the producers of tomorrow; and ensures high-quality coffee and tea will be available for years to come.
Find out more
about our responsible sourcing initiatives and partnerships.

A Partnership with Purpose
For many of us, coffee is a daily ritual; it's a morning essential, an afternoon boost, an evening respite. Whether it's whole bean, K-Cup® pod, or cold brew, with Keurig® Commercial, you can enjoy the highest quality experience knowing that your coffee is expertly roasted and responsibly sourced. Together, we can build a better tomorrow for your team, our coffee farmers, and the planet as a whole.
The Impact of Sipping Sustainably

Increased access to water

Climate change preparation

Better education & stronger communities

Improved farmer profitability