Trend Article
5 Simple Ways to Create a Healthier Work Environment
Posted

December 27, 2019
Business Type

Office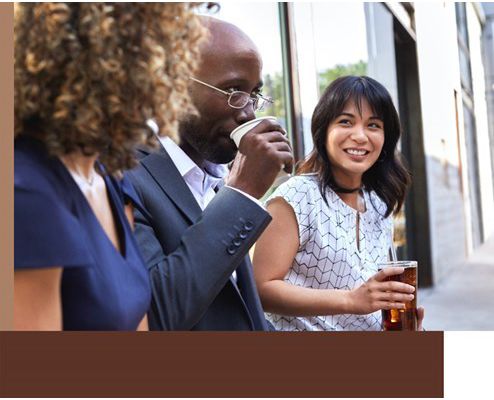 "63% of employers who offer wellness programs are experiencing financial sustainability and organizational growth.*"
Employee well-being is top of mind for many companies. As more business owners and leaders understand the correlation between healthy, happy workers and engagement, they're taking steps to up their wellness game.
Expanding the wellness offerings in your office can actually be relatively simple and inexpensive, compared to the payoff. A good place to start is by asking your team what they think would be most beneficial to them, but in the meantime, here are a few proven ways of keeping employees strong, healthy, and happy year-round.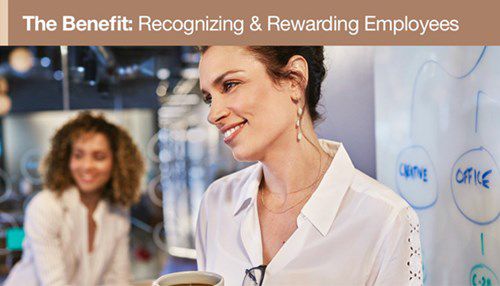 The Impact: Highlighting good work makes employees feel valued and motivated
Words of praise can be incredibly validating. Many employees would rather receive public or private recognition for their work than a monetary reward.1
Depending on your business size and culture, your recognition program could range from simple (like a company-wide email) to spectacular (such as Keurig Dr Pepper's source trip program, which sends select employees to coffee farms in Central or South America). If the team is small enough, consider awarding praise based on personal preference: while some workers may enjoy public recognition, others might prefer a personal note or one-on-one conversation.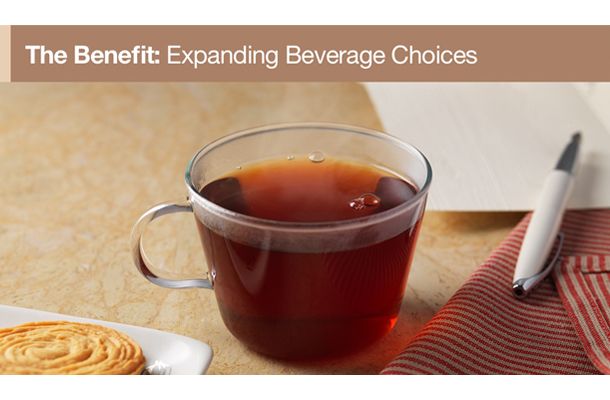 The Impact: Tea can help improve engagement and productivity
Many workers rely on coffee to get them going in the morning, but tea has a gentler caffeine boost. It offers a more calming and centering drinking experience, making it the perfect beverage for that mid-morning or afternoon break — and regular breaks can increase productivity, creativity, and mental well-being.2
Tea can also provide some much-needed comfort during the fall and winter seasons. Bigelow® Green Tea K-Cup® pods soothe and warm from the inside out, plus green tea is packed with antioxidants that enhance immune function. It's also a good source of L-theanine, an amino acid that's thought to help produce germ-fighting compounds.3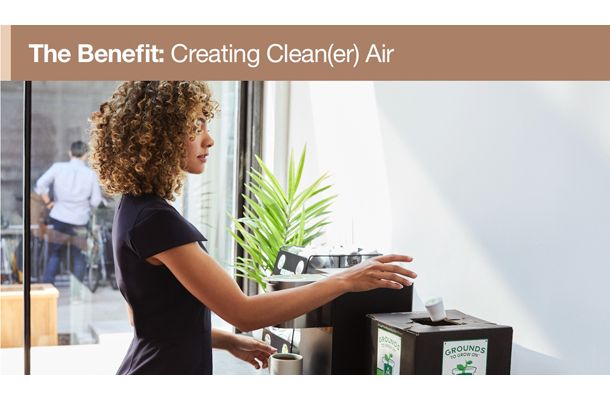 The Impact: Air quality can impact employee health as well as productivity
We all know the air we breathe affects our health. But a 2014 World Green Building Council study found that productivity also increases as much as 11% when an office has fresher air and less pollutants.4 Don't worry if updating your air filtration system isn't in the budget, however.
Eliminating clutter and implementing green cleaning policies can help your employees breathe easier. Another cost-effective way of improving the air is to bring some greenery into the office: plants have been shown to help filter the air around them.4 Research has also found that a visual connection to greenery can improve your mood, reduce stress, and increase productivity.5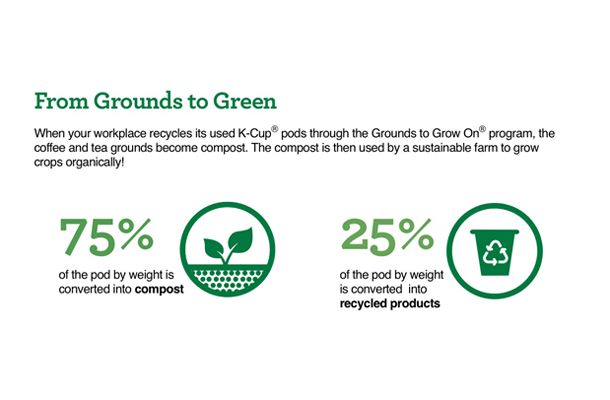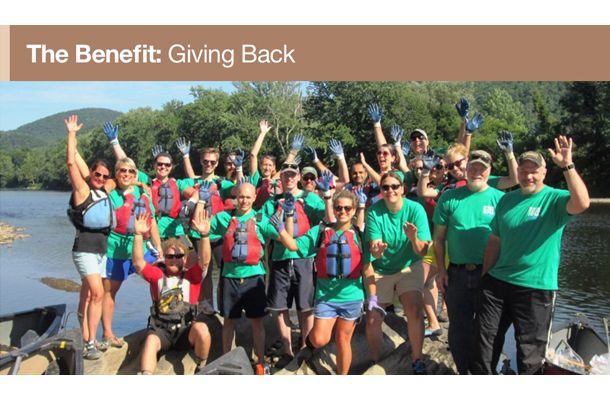 The Impact: Inspiring workers to get involved benefits others as well as office morale
Creating opportunities for employees to do good doubles as community support and a team-building exercise. These experiences help build meaningful connections between workers as well as a more positive work environment. Corporate-led outreach also shows an organization's empathy, which is thought to improve employee retention.8
There are nearly endless ways your team can give back. Your business can even develop its own program, like Keurig Dr Pepper did. The company's Let's Play initiative gives employees the chance to help make active play a daily priority by bringing new play opportunities to kids and families.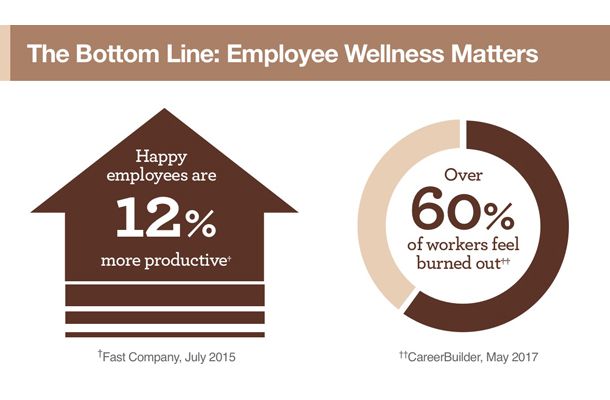 ​
Creating a healthier work environment doesn't require an overhaul of your benefits package or huge expenditures. Just a few changes around the office can have a major impact on your team's wellbeing and work output.
Even if your staff doesn't seem unhappy or tired, it might be wise to have a conversation about their workplace needs. Symptoms of burnout are serious — think depression and anxiety9 — and can have a long-term effect on their productivity, physical health, and mental wellness.10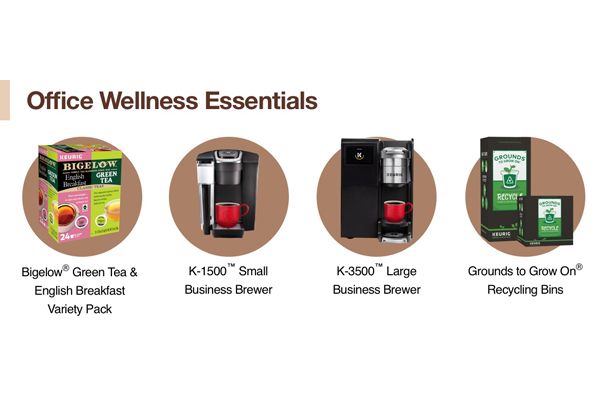 Sources
1 Employee Recognition: Low Cost, High Impact," Gallup, June 2016
2 "New Study Shows Correlation Between Employee Engagement and the Long-Lost Lunch Break,"
3 "15 Foods That Boost the Immune System,"
4 "Health, Wellbeing & Productivity in Offices,"
5 "Workplace Quiet Rooms Offer Introverts (and Others) a Place to Recharge,"
6 "How Short Breaks & Quiet Time Can Fuel Creativity at Work,"
7 "Job Satisfaction In Your 20s and 30s May Impact Your Health Later,"
8 "10 Timely Statistics About The Connection Between Employee Engagement and Wellness,"
9 "Do Americans Need a Vacation?"
10 "2019 Employee Benefits: Family-Friendly Wellness,"
* "Workplace Wellness Goes Beyond ROI," International Foundation of Employee Benefit Plans, June 2017,
** "Case for Bigelow® Green Tea & English Breakfast Variety Pack for AFH," Keurig Insights Tracker, April 2019
† "Why Happy Employees Are 12% More Productive," Fast Company, July 2015,
† † "Do American Workers Need a Vacation?", CareerBuilder, May 2017,