Trend Article
Can Seasonal Coffee Crazes Benefit Your Office?
Posted

September 09, 2019
Business Type

Office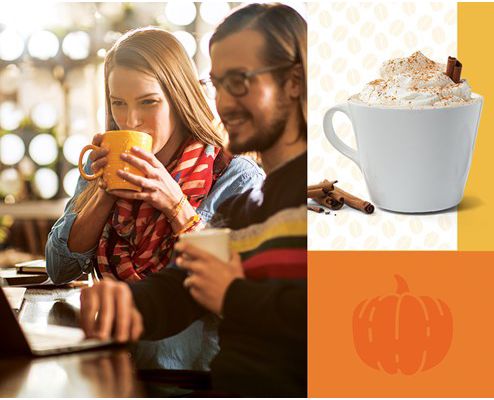 There are two types of people in the office: those who celebrate fall, and those who celebrate pumpkin spice latte season.
The craze is real. Pumpkin spice latte fans spend $3 more per transaction than the average coffee purchase to get their fall-flavored fix1— which, for nearly 30% of those consumers, is multiple times throughout the season.2 Business owners and managers would become the office hero if seasonal coffees were offered in the work kitchen, but that's not the only benefit these beverages bring to the workplace.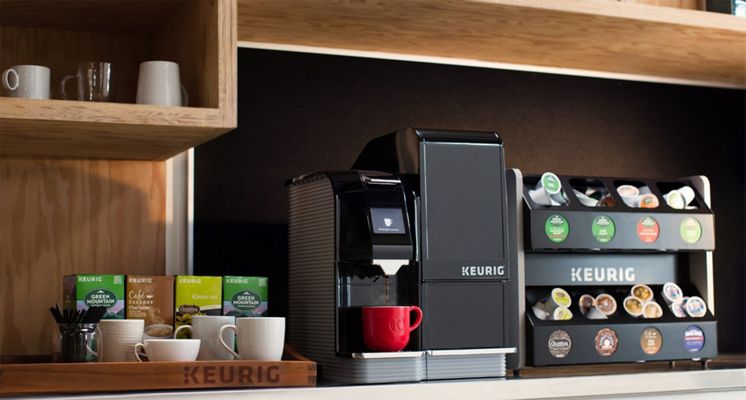 "Fringe benefits like office coffee and snacks are 50% tax deductible."4
Make It a Perk
Small business owners know perks can impact company culture (over 90% of employees believe benefits contribute to overall job satisfaction3), but even if they don't have the resources of a large organization, they do have one advantage: they're nimble. They can respond quickly to trends and workers' needs, and offering a rotating lineup of seasonal coffee and beverages is a budget-friendly way of doing just that.
But what's the real advantage of providing better office coffee? Businesses that strategically leverage benefits as tools for recruiting and retaining talent not only report above-average effectiveness but also boast higher company performance overall.3 Plus, come tax season, the beverages can serve as a perk for the company accountant, too: de minimis fringe benefits like office coffee and snacks are 50% tax deductible.4
Coffee Equals Efficiency
Fans of pumpkin spice lattes make double the number of coffee runs during PSL season as the typical coffee consumer.1 Considering the average employee already loses 38 working hours every year on outside coffee runs,5 seasonal beverage crazes could wind up costing small business owners valuable dollars.
The K-1500™ Small Business Brewer is a simple way of enticing workers to hit the kitchen, not the coffee shop. The popular system has 4 cup size options, a "strong" button (for those seeking something more potent), and Quiet Brew Technology™—a must for open floor plans. With the brewer and an assortment of seasonal K-Cup® pod flavors like Green Mountain Coffee Roasters® Pumpkin Spice Coffee, employees will be able to get their fix just steps from their desk instead of around the corner.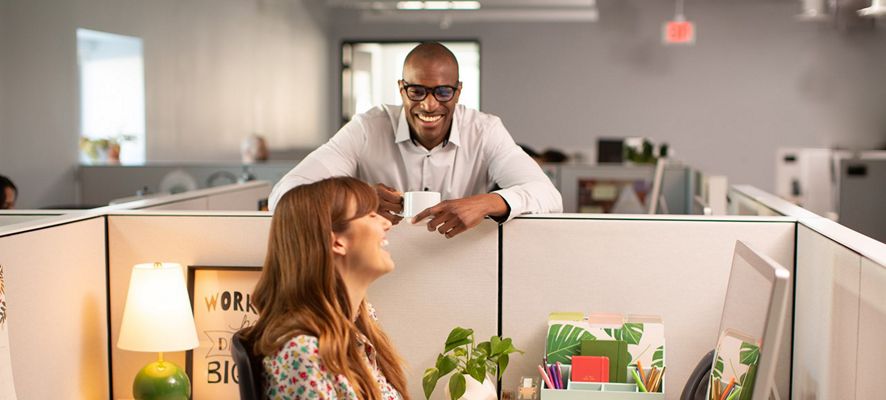 "40% of employees say they've had productive work conversations over coffee"7
Fuel Conversation Year-Round
Coffee is scientifically proven to help boost productivity, but it turns out employers can also drive engagement just by offering their team a cup of joe.3 According to one study, workers aged 18 – 34 think coffee breaks improve collaboration in the workplace.6 Another found that 40% of employees say they've had productive work conversations over coffee.7
Given the popularity of seasonal flavors, it's easy to imagine the buzz they'd create in the workplace. Surprise employees with Dunkin' Donuts® Pumpkin Spice Coffee K-Cup® pods, whipped cream, and some cinnamon, then watch the connections grow as your team members create their own gourmet, fall-inspired drinks right in the office.
Must-Try Brewer & Seasonal Sips
K-1500™ Small Business Brewer
Green Mountain Hot Apple Cider K-Cup® Pod
Green Mountain Coffee Roasters® Pumpkin Spice Flavored Coffee K-Cup® Pod
Green Mountain Coffee Roasters® Maple Pecan Flavored Coffee K-Cup® Pod
Dunkin' Donuts® Pumpkin Spice Flavored Coffee K-Cup® Pod
Dunkin' Donuts® Milk Chocolate Hot Cocoa K-Cup® Pod
Café Escapes® Milk Chocolate Hot Cocoa K-Cup® Pod
Café Escapes® Chai Latte K-Cup® Pod
Sources
1 "Starbucks Has Made An Insane Amount of Money From PSL Sales," Delish,
2 "Limited Time Offer Pumpkin Beverages Spice Up Business for Food Service Operators," NPD,
3 "2018 Employee Benefits: The Evolution of Benefits," Society for Human Resource Management,
4 "At Start-Ups, the Free Lunch Is Yours for the Making," New York Times,
5 "The Power of Perks," Incentive Mag,
6 "How to Embrace the Benefits of Coffee in Your Workplace," Staples,
7 "The One Office Perk You Must Splurge On," Business Insider,