Trend Article
These 5 Actions Boost Employee Productivity—And You Can Enact Them Today
Posted

July 02, 2019
Business Type

Small Office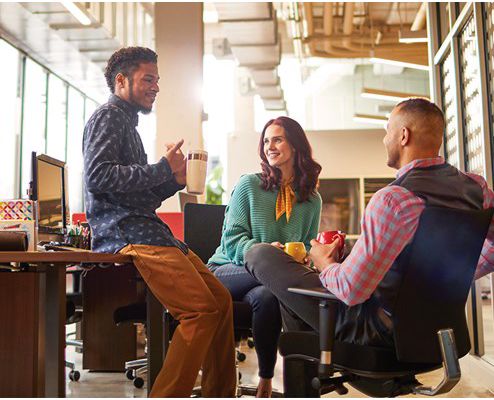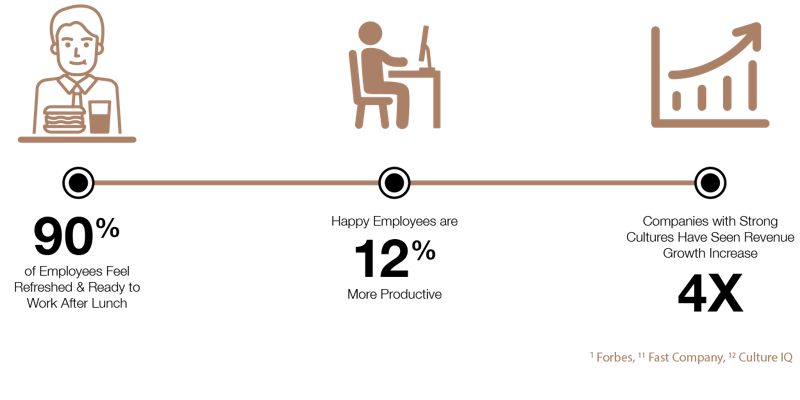 Whether you lead a company of 2, 22, or 200, motivating different personalities can be a challenge. Luckily, there are a few methods that have been proven to help keep employees fulfilled and focused — and best of all, you can put them into practice right away.

Make Breaks a Must
Nearly 90% of employees who regularly take lunch breaks report feeling refreshed and ready to work after time away from their desks.1 Science supports them: taking a breather from tasks gives the prefrontal cortex — the part of the brain responsible for logical thinking and concentration — the chance to replenish mental resources. Breaks also encourage employee engagement, which is linked to productivity.2
Brew the Right Kind of Coffee
"Spoiler: as Gen Z-ers start to enter the workforce you'll need to keep more flavored coffee on hand."
Studies have shown that caffeine (in the right amount) may provide a short boost of alertness and energy and even help increase focused attention.3 With a brewer system like the Keurig® K1500™, you can overcome the limitations of a single office coffee pot and offer a selection of K-Cup® pod coffees and teas that meet everyone's caffeine needs (which is important considering 65% of workers prefer to drink coffee on the job).4

If you can't decide what assortment of coffees to order, Keurig® has identified 8 beverages that satisfy every coffee preference.5 Spoiler: as Gen Z-ers start to enter the workforce you'll need to keep more flavored coffee on hand.

Be Flexible
For many workers, being glued to a desk isn't necessary for success. Implementing flexible work strategies can not only save business owners money,6 but also improve office morale and productivity 7 by supporting work-life balance. While the arrangement that works best for your team will depend on business and cultural needs, offering flexible vacation, location, or schedule policies can help retain and even attract talent: 77% of employees say flexible work arrangements are a major consideration when choosing a job.7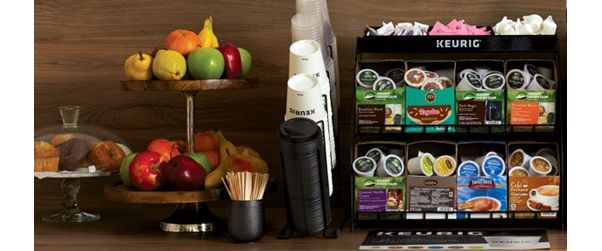 Keep the Kitchen Stocked
The way to your employees' hearts is (partially) through their stomachs. Providing complimentary snacks not only boosts overall job satisfaction8 and makes workers feel valued,9 but also improves productivity: outfitting the office kitchen with snack bars, crackers, chips, and the like ensures that, even on the busiest days, employees can quickly grab something to keep them energized and focused. And, it prevents them from leaving the office to grab food (which can cost a company significant working hours).10
Prioritize Company Culture
All work and no play makes the office dull and less efficient: happy employees are 12% more productive (and better at solving problems and thinking creatively, too).11
Company outings and social events are great for improving company culture, but regularly engaging with your team is vital to long-term happiness. Mission statements, support systems, value alignment, and work environment have the greatest impact on employee satisfaction; which means listening to your workers, acknowledging their achievements, and investing in their futures can go a long way. Companies with strong cultures have seen revenue growth increase by nearly 4 times.12

Creating a work environment that supports employee satisfaction and drive is an ongoing responsibility for managers and business owners. But providing your team with quality coffee from Keurig® is a good place to start. Contact your Keurig® Commercial Sales Representative today to design a complete coffee experience customized for your workplace.
Product Featured
Green Mountain Coffee Roasters® Dark Magic Coffee K-Cup® Pod
The Original Donut Shop® Coffee Regular K-Cup® Pod
Peet's Coffee® Major Dickason's Blend® Coffee K-Cup® Pod
Dunkin' Donuts® French Vanilla Coffee K-Cup® Pod
Caribou Coffee® Caribou® Blend Decaf Coffee K-Cup® Pod
Celestial Seasonings® Natural Antioxidant Green Tea K-Cup® Pod
Celestial Seasonings® Zinger® Herbal Tea K-Cup® Pod
Swiss Miss® Milk Chocolate Hot Cocoa K-Cup® Pod
Green Mountain Coffee Roasters® Island Coconut Coffee K-Cup® Pod
Sources
1 "New Study Shows Correlation Between Employee Engagement and the Long-Lost Lunch Break," Forbes,
2 "How Do Work Breaks Help Your Brain? 5 Surprising Answers," Psychology Today,
3 "How Coffee Actually Affects Your Productivity," Doist,
4 "The One Office Perk You Must Splurge On," Business Insider,
5 National Coffee Drinking Trends 2017, NCAUSA.org

6 "How a Flexible Workplace Saves Money and Lifts Morale," Forbes,
7 "Big Statistics About the State of Flexible Work Arrangements," Zenefits,
8 "Study: They Key to Happiness at Work is Free Snacks," USA Today,
9 "10 Scientifically Proven Ways to Motivate Employees," Square,
10 "What Providing Employee Snacks Does for Your Company," PBFY,
11 "Why Happy Employees Are 12% More Productive," Fast Company
12 "Company Culture and Employee Engagement Statistics," Culture IQ