Trend Article
A Cold Coffee Drink For Every Generation in the Office
Posted

August 06, 2019
Business Type

Small Office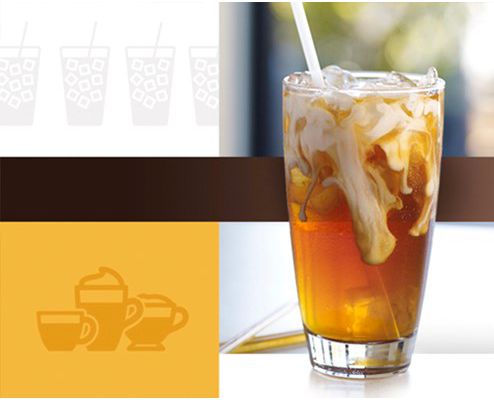 While on the whole, likes and dislikes across different generations couldn't be more diverse, at least one preference is comfortingly the same — everyone loves a good cup of coffee. And, increasingly, a cold one.
Perhaps unsurprisingly, Millennials are the primary drivers of cold coffee popularity. 66% drink iced coffee, with more than 50% sipping cold lattes alone.1
1 in 5 Gen-Xers and 1 in 10 Baby Boomers also regularly enjoy their brews on ice.1 Even the 60+ crowd is shifting their average-joe-loyalty to gourmet coffee drinks at the rate of 10% per year.2
Creating a culture around gourmet (or "fourth wave")1 coffee at work has been attributed to more employee engagement, higher productivity, and better job satisfaction.3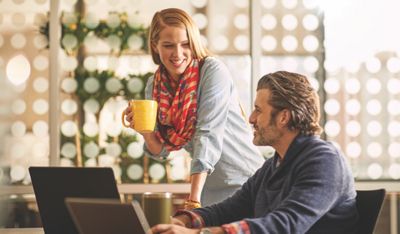 What Does Your Office Sip?
The number of people drinking specialty coffee drinks—which, as defined by the National Coffee Association, includes iced coffee brewed from premium beans, cold espresso-based beverages, blended drinks, cold brew, and nitrogen-infused coffee—has grown consistently over the past 18 years.4 According to a NCDT report, half of all 25 – 39-year-olds consumed a gourmet coffee drink just yesterday.5 For many, it's because specialty coffee isn't reserved for, well, special occasions. Nearly 60% of the cups of coffee consumed daily in 2017 were specialty; only 41% were non-specialty.4

Iced Coffee vs. Cold Brew: Different Types of Cold Coffees
It's easy to confuse the many varieties of cold coffee, but don't be fooled. They're as distinct as Millennials and Baby Boomers.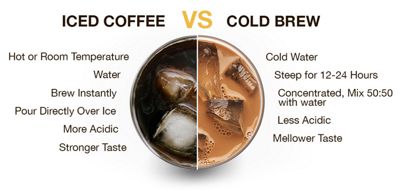 Best Iced Coffee Additions
Real Maple Syrup
Coconut Sugar
Vanilla Powder
Almond Extract
White Chocolate Sauce
Cardamom
Eggnog
Mint
Chocolate Milk
Ice Cream
Bringing Generations Together at Work Over Coffee
Listening is the foundation of understanding. Make coffee breaks a time to learn, relax, and bond...or rather break the bonds...of generational gaps.
"Spoiler: as Gen Z-ers start to enter the workforce you'll need to keep more flavored coffee on hand."


Favorite Cold Coffee Recipes
Stock your office's break room with these ingredients to mix up delicious, satisfying gourmet cold coffee drinks that will suit everyone's tastes. Have some non-coffee drinkers in the house? Iced tea is a refreshing solution that still delivers a perfunctory pick-me-up. Try these tailored blends inspired by what's unique about each generation. Each can be created by simply brewing the K-Cup® pod over ice.

Gen Z-ers are complex, just like this rich coffee blend. Dark (but not too dark) with multiple layers, the Major Dickason's Blend® is delicious served hot or brewed over ice.

Distinctive, confident and worldly, innovative and savvy Millennials are all about quality and flavor. This contemporary blend is a lighter, round-bodied take on the latte.

Gen X professionals know how to work hard and play hard. That's why a dark roast with horsepower and fun chocolate finish is just the ticket to get them through the day.

Straight-shooting Boomers will appreciate the classic taste of this full-bodied medium roast
(and the lack of frills in its recipe).

Task-oriented Traditionalists who might not otherwise take a coffee break, can enjoy this gourmet treat without leaving the office. It's the perfect 3PM escape in a cup.
Don't forget the most important part: Ice! We like these eye-popping trays from Staples for smaller workplaces, or retro-feeling maker from Office Depot for larger crowds. Add to the experience with (sustainable!) designer straws or personalized Mason Jars.
Featured Products
The Original Donut Shop® Coffee K-Cup® Pod
Green Mountain Coffee Roasters® French Vanilla Coffee K-Cup® Pod
Lavazza® Gran Selezione K-Cup® Pod
Peet's Coffee® Major Dickason's Blend® Coffee K-Cup® Pod
Celestial Seasonings® Natural Antioxidant Green Tea K-Cup® Pod
Contact your Keurig® Commercial Sales Representative today to design a complete coffee experience customized for your workplace.
Sources
1 "Millennials Drive Growth of 'Fourth Wave' Iced Coffee, But Where Do We Go From Here?," Mintel,
2 "Specialty Drinks Aren't Just for Millennials," Vending Market Watch,
3 "How Creating a Culture Around Coffee Can Boost Millennial Engagement at Work," Forbes,
4 "2017 U.S. Specialty Coffee Consumption Trends," SCA News,
5 NCDT Report, 2017