Recipe
Big Island Frozen Latte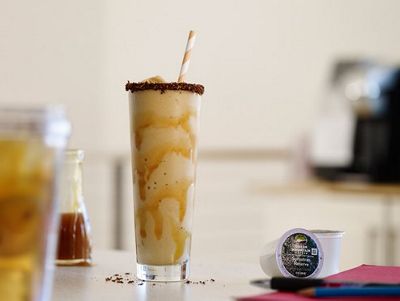 Coconut milk, a growing dairy alternative, makes this classic caramel-coconut-cookie-inspired beverage the perfect meal accompaniment or standalone snack.
Ingredients
Green Mountain Coffee Roasters® Dark Magic® Extra Bold 4 oz. (or Original Donut Shop)

4 oz.

Ice

3.5 cups

Caramel sauce

3 oz.

Coconut milk, canned

2 oz.

Chocolate sauce

As needed

Toasted Coconut Blend

As needed

Chocolate-coconut cookie

1 each
Preparation
In a 16 oz. shaker full of ice, brew 4 oz. Green Mountain Coffee® Dark Magic® Extra Bold.
Quickly strain the coffee into a blender along with caramel sauce, coconut milk, and 1.5 cups ice.
Blend on high until smooth.
Pour into a 20 oz. glass rimmed with chocolate sauce and Toasted Coconut Blend.
Garnish with a chocolate-coconut cookie.
Serve immediately.