Recipe
Almond Smash Coffee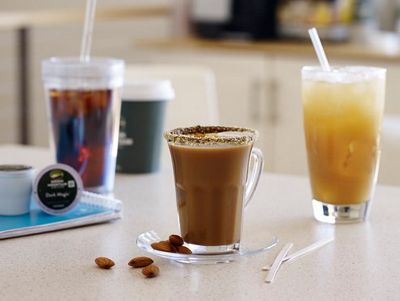 Here's a smooth and sweet beverage that leverages the skyrocketing popularity of nut milks, complete with an indulgent chocolate rim that takes the seductive allure over the top.
Ingredients
Green Mountain Coffee Roasters ® Dark Magic® Extra Bold

8 oz.

Chocolate sauce

As needed

Almonds, ground, toasted

As needed

Almond syrup

1 oz.

Vanilla almond milk

2 oz.
Preparation
In a 12 oz. mug rimmed with chocolate sauce and ground almonds, add almond syrup and vanilla almond milk.
Brew 8 oz. Green Mountain Coffee® Dark Magic® Extra Bold and stir to combine.
Serve immediately.